When it comes to acrylic furniture, one thing is clear: there is power in transparency! Clear acrylic is a thermoplastic with the look of glass and the useful benefit of shatter resistance. Durable and airy, this material sells under many names, including Lucite, Perspex, Plexiglas, and poly(methyl methacrylate), or PMMA.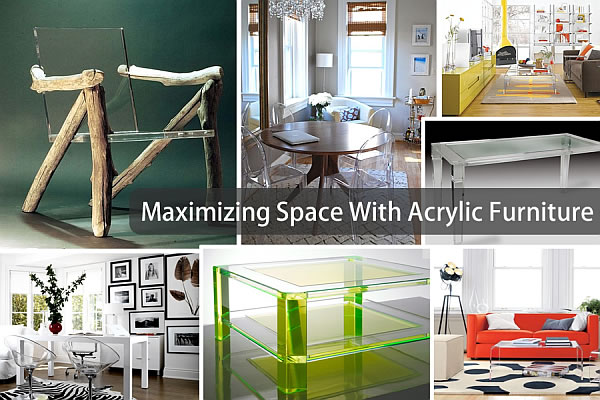 So why go clear? For one thing, the fact that you can see through clear acrylic furniture gives it the appearance of taking up little to no space, a helpful quality for small rooms in which maximizing space is a priority! Furthermore, its tendency to expose everything it holds forces a certain level of organization. For example, an opaque shelf that holds haphazardly stacked books and papers may not reveal as much of the mess as an acrylic shelf, the contents of which can be viewed from all angles. In other words, acrylic furniture encourages its owners to be neat, resulting in dwellings that are as tidy as they are stylish!
Acrylic Coffee Tables
Acrylic coffee tables are ideal for tight spaces. Not only do they appear to take up little room, their shine adds a sleek, glossy quality to interiors. In addition, these shiny pieces are perfect for rooms that showcase patterned rugs, as the colors and shapes from the floor show through the furniture. Below we see the classic yet modern design of the Peekaboo Clear Coffee Table from CB2. The Peekaboo Clear Media Table rests beside it.
Another option for the Peekaboo Clear Coffee Table is stacking two side by side to create one piece. This alternative is perfect for rooms with longer lines and lean spaces.