A wet room is essentially a shower area in your bathroom where the floor is contiguous with that of the rest of the room.
A slight incline allows the water to escape through a drain in the floor. The lack of a barrier between the wet room floor and its surroundings allows for a more spacious and comfortable showering experience. While anyone can enjoy the luxurious experience that a wet room gives, wet rooms are also especially convenient for the elderly and those with mobility issues.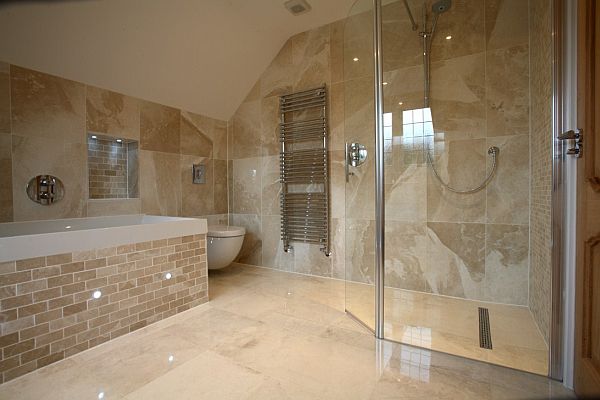 Practical Considerations
The first step in creating a wet room is to decide what style of wet room you would find most suitable for your particular needs and design aesthetic. Initially, you must make decisions based on functionality. Your wet room can have a multi-directional incline which allows for a single square or round drain.
However, this requires the use of smaller tiles.
A one-directional incline allows for larger tiles to be used but means you must incorporate a channel drain. You can choose to have walls to protect un-waterproofed areas of the room from spray or you can design a fully open-plan wet-room.
If you decide to create a walled wet room make sure you have enough space so that you are not constricted by the walls when you shower. Many people like to have large shower-heads or multiple sprays so as to better enjoy their daily shower.