Different from the old four walls and one roof chestnut, there is something about odd shaped roofs that get the eye with their weird curves. And although none of these can serve as inspiration, it's the creativity behind these spectacular designs that stirs our emotions. From green roofs to structures that defy conventions, check out our favorites after the jump:
Hotel Marqués de Riscal
Located in Alava, Spain (the "City of Wine"), this ribbon-like construction is the roof to the unique Hotel Marqués de Risca. An exercise design meant to redefine the traditional image of winery regions in Spain, the whole structure has been commissioned by renowned architect, Frank O. Gehry— the same guy who did Bilbao's Guggenheim Museum. (images)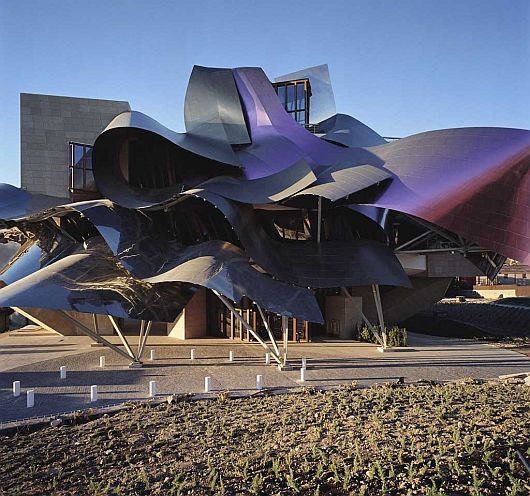 Green Roof of Nanyang Technological University
The School of Art, Design and Media at the Nanyang Technology University in Singapore, recently got a new roof that distinguishes itself from other buildings in the campus. And no, if you were thinking, it's a not a golf course. It's an organic, vegetated roof that creates and open space, insulates the building, cools down the air and harvests rainwater for self irrigation. (images)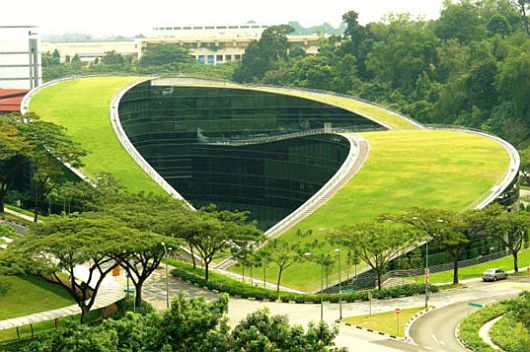 Casa Batlo by Antonio Gaudi
Famous Catalan architect renowned for his unique and highly individualistic designs, Antonio Gaudi is part of Barcelona. With a fine sense for Gothic architecture and a passion for nature's angles and curves, Gaudi's originality was at first ridiculed by his peers. But now that time has passed, he's one of the most original architects to have ever lived. And Casa Batlo is just an example of his work.  (images by imat and caribb 1 + 2)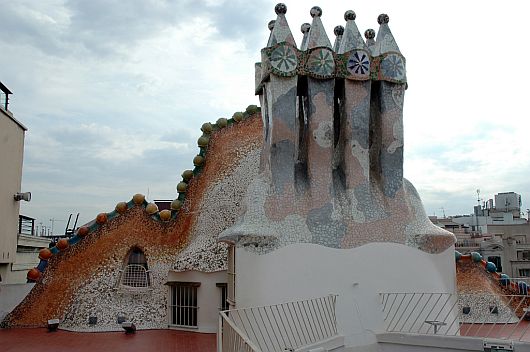 Tongkonan
Known as the traditional ancestral homes of the Torajan people, in Sulawesi, Indonesia, Tongkonan houses feature an overwhelming unique boat-shaped roof. Made of bamboo and other natural materials, they are all used for family purposes, hence why the whole "clan" helps to its construction. (images by gromanuk)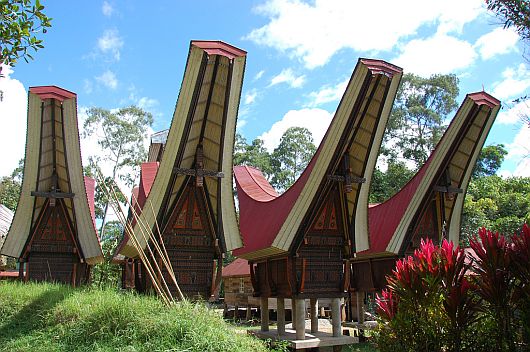 Upside Down House by Daniel Czapiewski
There are architects, and then there are architects who would like to express their feelings about the way things go in this world. And how better way to do it if not by building an upside down house? What you see below is the work of Daniel Czapiewski, a Polish businessman who created the concept and built it from the grounds up (or vice-versa) in 114 days — unlike the three weeks workaround he delivers for his other houses. It's located in the tiny Polish village of Szymbark.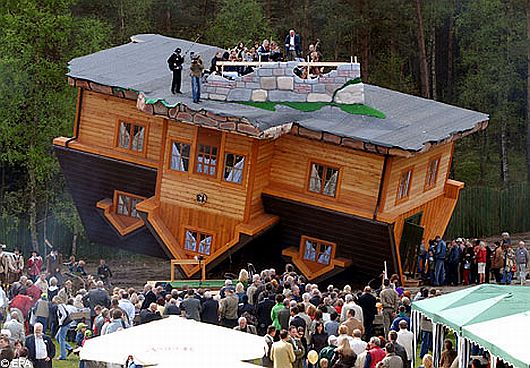 Weird Seafood Roof?
As much as I'd like to comment on this one, I think I won't. It's just too weird for my taste and explaining why there's a black giant octopus on top of my house would make it difficult all the time. We'll settle with this Flickr description — "according to my cousin, this building is used by a satanic cult. the entrance to the building cannot be seen on street level, unless you have the special priviledge then it will appear in plain view. i dont know if i believe it, but still pretty cool." Weird, eh?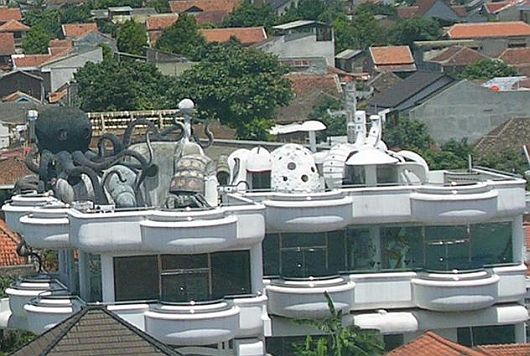 —————————-
Know of any other weird roofs? Share them below :) !!!
Liked the story? Share it with friends.