DS-51, Classic Chair with a Modern Design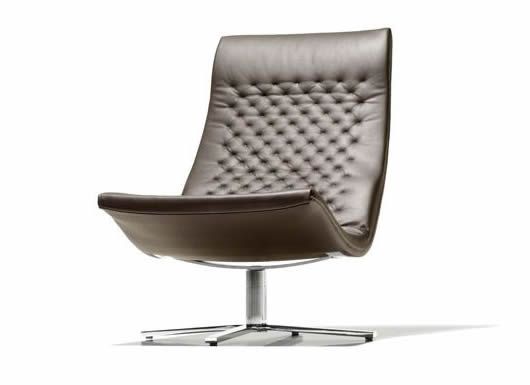 Primarily aimed at giving any office or home a futuristic feel, DS–51 is a swivel chair created in 1971 by the Swiss at de Sede. This nearly 40 year old design still looks like it was designed today. The designers definitely had a fantastic vision or a crystal ball to peer into the future when they brought this design into the real world.
Combining a slim outline for a fresh feel overall, this chair is covered in fine leather with an assortment of available colors as long as you choose either natural tan or black. In fact, you might wish to order a set of these to outfit your comfy room. If you have an office with a large conference table, a half dozen of each color will make a bold statement for your visitors.
A lot of attention to quality is evident in the hand stitching which is done in a contrasting color to show off the expert craftsmanship. The DS-51 looks like the ultimate in luxury and comfort. In fact, it is very comfortable and feels luxurious as well as it looks. Perfect for adding an air of subtle sophistication to any setting, this one is definitely a collector's item for those in search for the perfect blend of classic and modern. [via Trendir]